Only Watch 2015 from a feminine perspective
Helping others through charities? Only Watch gives watchmakers a chance to harness their energy and time for a good cause: children.
Only Watch, a charity auction of fine watches whose profits go towards combatting Duchenne Muscular Dystrophy, is held every two years. Usually the venue is Monaco, but for its 2015 edition, the sixth, the event will be held in Geneva on November 7 during the city's Auction Week. Forty-four participating brands will be showing unique pieces and putting them up for auction. Only four pieces were made for women, but each was made according to the same principle: a meticulously designed and poetic work of art on a high-end watch. They were made to keep hope alive.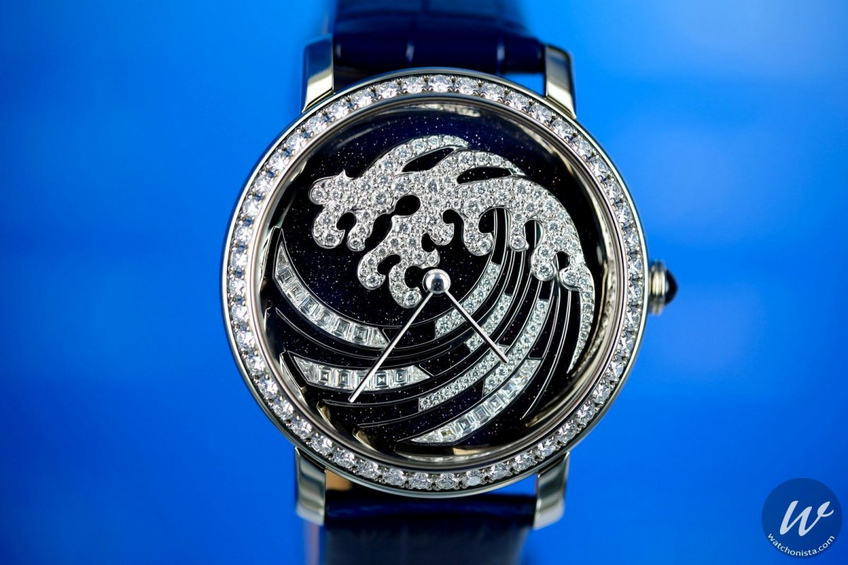 Boucheron Epure d'Art Vague de Lumière
Epure d'Art, Vague de Lumière by Boucheron

A watch case in white gold with brilliant- and baguette-cut diamonds, a dial made of aventurine reflecting the deep blue of the ocean or the sky... Boucheron's Vague de Lumière is inspired by Japanese artist Katsushika Hokusai (1760-1849) and his famous woodblock print, The Great Wave off Kanagawa. The result is a round watch with chamfered lugs and featuring a wave unfolding on the dial in a 3D design set with diamonds. Given the technical boundaries and limited space, Boucheron proved its ability to mix texture and material and blend art and watchmaking within a scant diameter of 41 millimeters, which includes an automatic GP400 movement.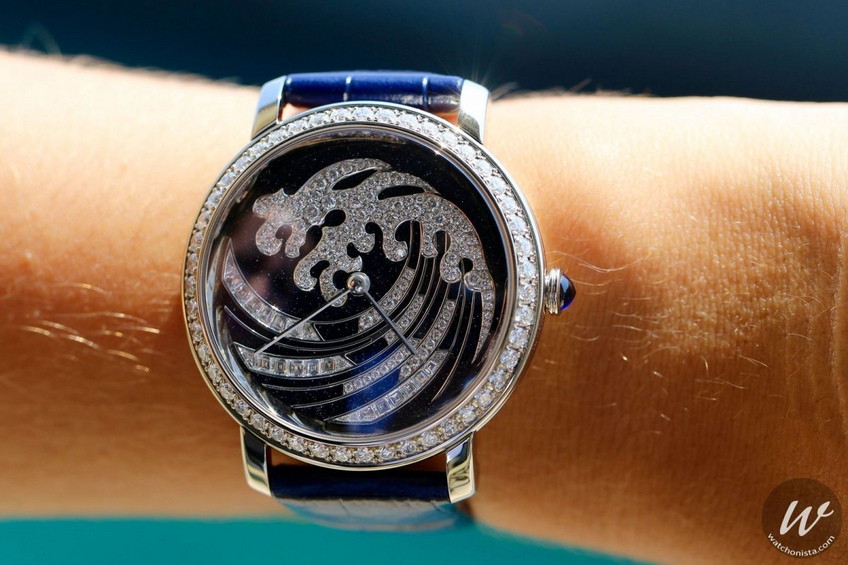 Boucheron Epure d'Art Vague de Lumière
The words Pièce Unique 1/1 are engraved on the case back right beside the legendary adage of the house "Je ne sonne que les heures heureuses," which translates as "I only ring the happy hours! The unique piece in the Epure d'Art collection comes on a blue alligator seamless strap and it does, in some special way, suggest that if worn, it will ring in happiness in the future.
Bovet Amadeo Fleurier 39 Lady Bovet
Amadeo Fleurier 39 Lady Bovet by Bovet
Bovet, which is famous for its involvement in charities dedicated to children's causes, decided to develop its Only Watch piece based on a model that is scheduled to be unveiled in 2016. The case, based on an existing Amadeo case, is reversible, meaning it can be worn both as a wristwatch and as a pendant, and used as a table clock as well. The dial on rear side of the "wristwatch" shows a miniature painting of two doves surrounded by a riot of colored flowers. It is an image taken from a pocket-watch the brand made in the early nineteenth century.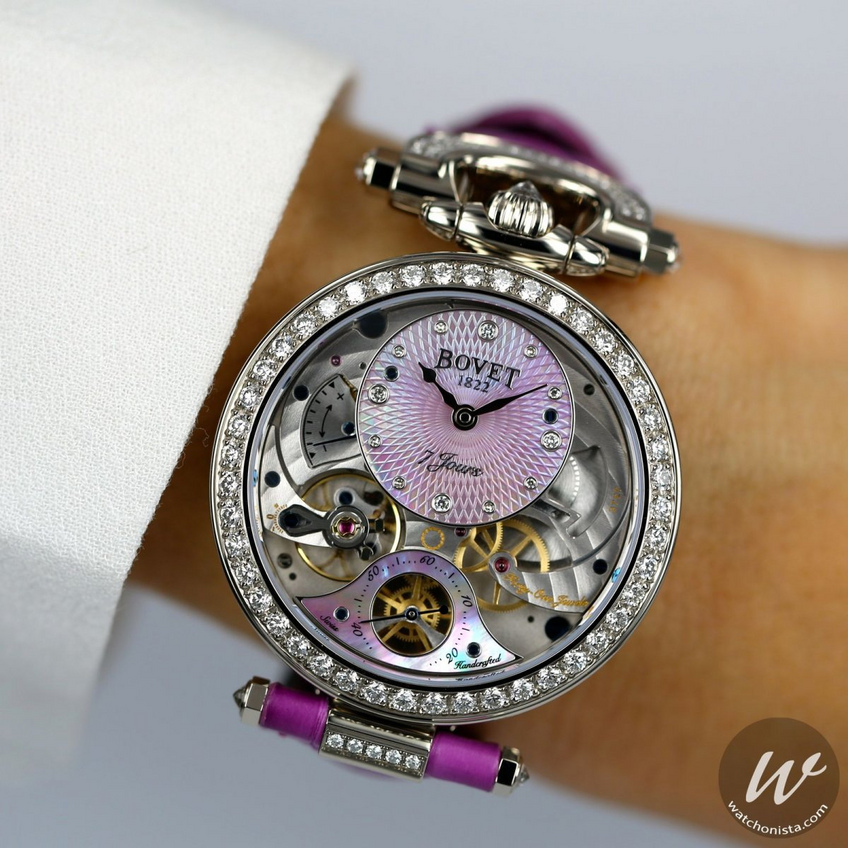 Bovet Amadeo Fleurier 39 Lady Bovet for Only Watch 2015
On the front side is a dial decorated with pink mother of pearl guilloché and with diamonds indexes. Both dials use mother-of-pearl as a base material. The colors are perfectly selected to match a very feminine, pink strap. The watch is driven by a 1738 Dimier Manufacture caliber with a seven-day power reserve. The watch was designed in such a way that all the mechanism components can be seen at all times, be that the balance spring, the jewels, the bridges or gear train as if one side of the piece was confronting the other side with a very different story. The message of the Amadeo Fleurier 39 Lady Bovet is one of hope and peace (the doves). As such, it also honors women for their gift of life to, and protection of, the child.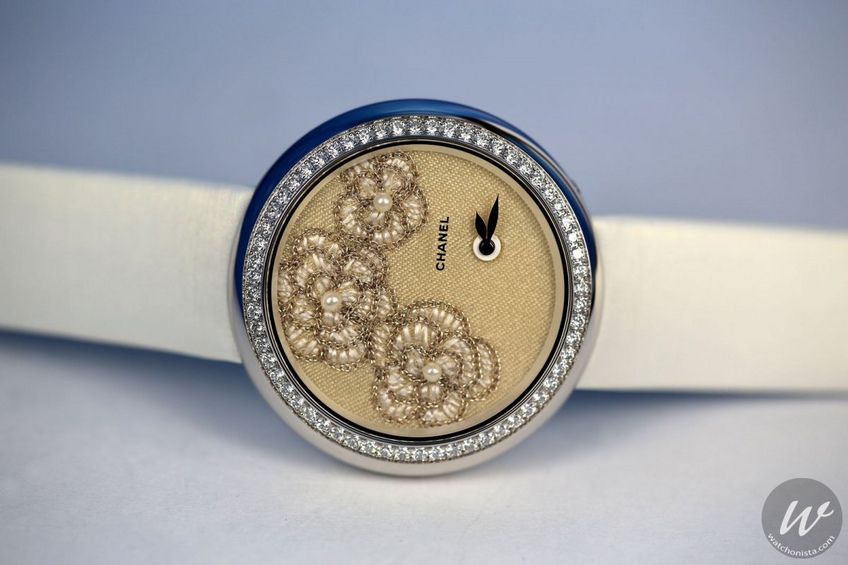 Chanel Mademoiselle Privé pour Only Watch
Mademoiselle Privé de Chanel
Craftsmanship, marquetry, inlays or stone-setting, Chanel does it all and does it well. The company certainly masters to art of haute couture, and when they combine it to watchmaking, it leads to the Mademoiselle Privé, a unique watch made in collaboration with Lesage, the legendary French embroidery house. The camellia, favorite flower of Gabrielle Chanel, appears in three different sizes on the beige, hand-embroidered dial. It's a very rare piece, one requiring fastidious work. How did they achieve it? Each flower petal is embroidered using white silk threads. Then, a Luneville hook surrounded by metallic threads is used to hold natural pearl at the center of each flower. The Luneville technique was developed in 1810 and allowed hooks to fix pearls and sequins in imitation of Venetian lace.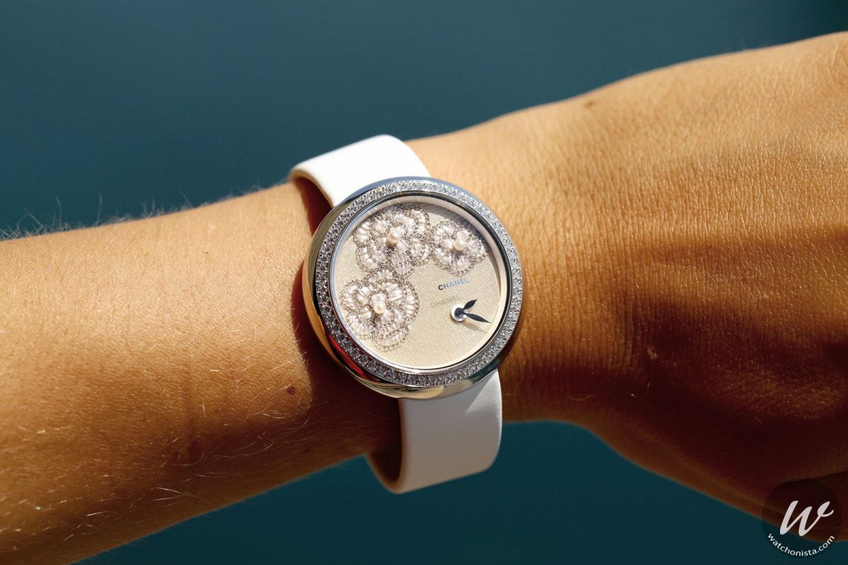 Chanel Mademoiselle Privé pour Only Watch
The art was lost with the arrival of pearl embroideries. Completely hand-made, Mademoiselle Privé has a rounded gold case set with 200 diamonds weighting no less than 2.49 carats. They accentuate the dominant milky tone of the piece… mimicking the skin of a child. Of course, the watch and the children need to be taken care of with the greatest care.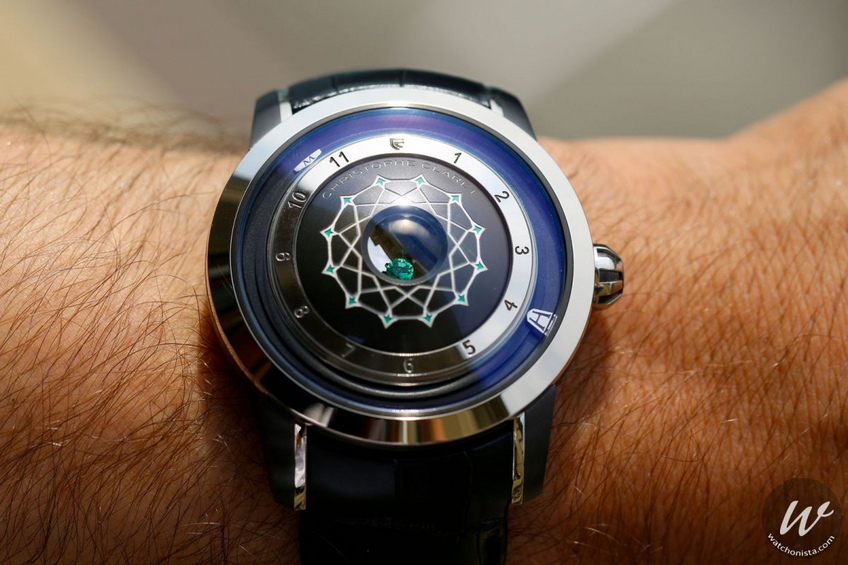 Christophe Claret Espoir et Paix
Espoir & Paix selon Christophe Claret
Perhaps the least "jewelry timepiece" on the block at Only Watch 2015, Espoir et Paix (Hope and Peace) from the workshop of Christophe Claret is something of a purist's dream. It makes use of a single central element, the emerald, which is green, traditionally the color associated with hope and rebirth. Claret returned to his Aventicum as a basis, placing the emerald in the middle of a mirascope, a device using parabolic mirrors that make the precious stone look twice its size. Time is displayed using two small arrows that circumnavigate the central dial. The sizable, 44-millimeter case is made of white gold and titanium. Inside is the same caliber as in the Aventicum, which boasts 72 hours of power reserve. A portrait of Alfred Nobel appears engraved on the rotor. The timepiece pays tribute to all 129 Nobel peace prize winners by reproducing their names on the case back. The most recent winner, Malala Yousafzai, who received the prize in 2014 fighting for girl's right to education, is engraved at 6 o'clock. By bringing the green for hope together with these exceptional people who have fought for peace in their own way, this special Claret timepiece is making a clear statement.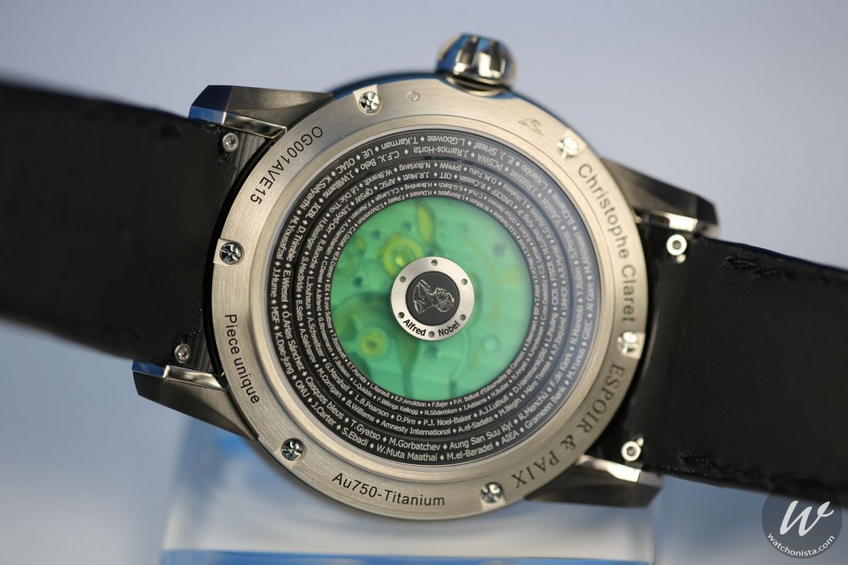 Christophe Claret Espoir et Paix
The auctions will be emceed by Aurel Bacs, a master in the field, and all profits from the sales will be funneled to a research program on Duchenne muscular dystrophy. This condition is a neuromuscular disorder arising from a mutated gene. It causes muscles to atrophy and leads to paralysis, skeletal deformities and other afflictions, and eventually death. It affects mostly boys, rarely girls, however. Research into the disease has been slow and painstaking, but with the help of events like Only Watch, progress has been made in small but important steps.