Nicolas Prost is driving for Rebellion and Only Watch
During the legendary 24 Hours of Le Mans race, Nicolas Prost was wearing the unique REB-7 Régulateur carbone forgé, which was destined for the Only Watch auction block.He decided to offer the future buyer his gloves and helmet as a bonus. An interview.
He's got the surname. And now he is making a name for himself.Nicolas Prost, the eldest son of one of the most famous personalities in auto sports, is driving in his father Alain's tracks.As a member of the Rebellion racing team, the only watch brand to have its own automobile stable, he decided to contribute in his own way – that is, by doing it in person – to the biannual fundraising efforts organized in the Principality of Monaco by Luc Pettavino, a close acquaintance of the His Serene Highness, Prince Sovereign Albert II of Monaco.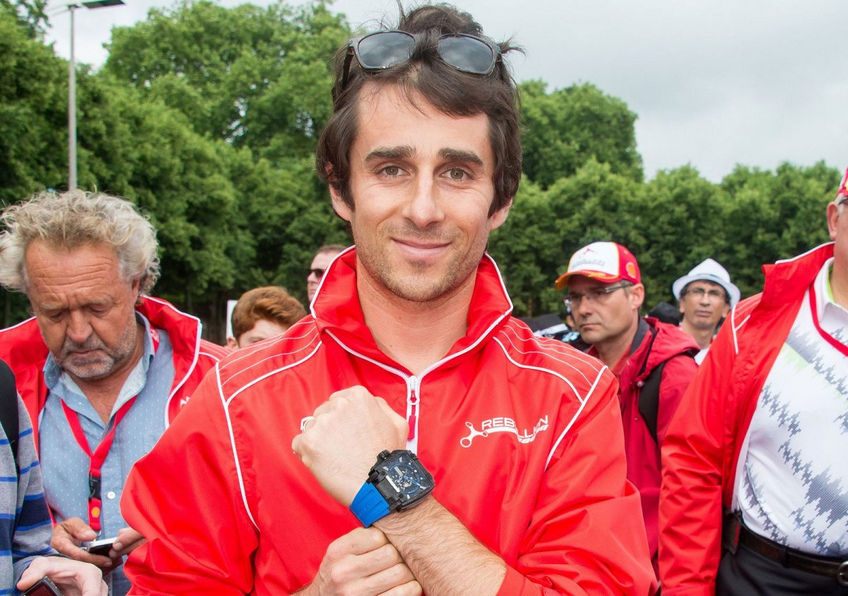 Nicolas Prost wears the Rebellion REB-7 Forged Carbon Regulator 2015 Only Watch at the 24heures du Mans
Every two years, Only Watch challenges over forty watch brands to eachcreate a unique piece, and to do all they can to make sure they pick up the highest bids when auctioned for the benefit of the AMM, the Association Monégasque contre les Myopathies.For the first time ever, this highly mediagenic auction will be taking place in Geneva.And for the first time as well, Rebellion will be participating.
Rebellion Timepieces decided to send a disruptive timepiece, one that merges the concept of the limited series with the utilization of a different material, namely carbon.It's a regulator watch boasting excellent readability. And it's a virile piece, thanks to its modular case design with the automatic movement ticking inside, which was developed by the watchmaker Laurent Besse. It features skeletonized bridges and a power reserve of forty-two hours. The electric blue color-coding of the timepiece suggests the identifying hues of the cause it is about to espouse, the new Only Watch logo, as well as the helmet of Nicolas Prost himself.
Nicolas Prost offers his elmets and gloves to Only Watch 2015
Do the racing team and the watch brand have a Rebellion spirit?
There are two sides to the Rebellion spirit. There's the warrior side of the underdog, the Swiss team that wants to compete with the behemoths and beat the big constructors by making a 3000 percent effort to compensate for its small size. Then there's the family side. I think all of us at Rebellion Racing enjoy a relationship with one another that goes beyond the call of professional duty. The Rebellion spirit is therefore the desire to fight and give one's best in harmony with all involved.
How did you find your involvement in the Only Watch project?
I have been a driver with Rebellion Racing since 2009, so I'm almost part of the woodwork by now. Like everyone else, I am quite moved by sickness and disease, especially when they affect children. To make a watch especially for wear during the 24 Hours of Le Mans, a tough race that resembles a battleground, and then to offer it to charity is really an idea that appealed to me and I was very happy to be associated with the project.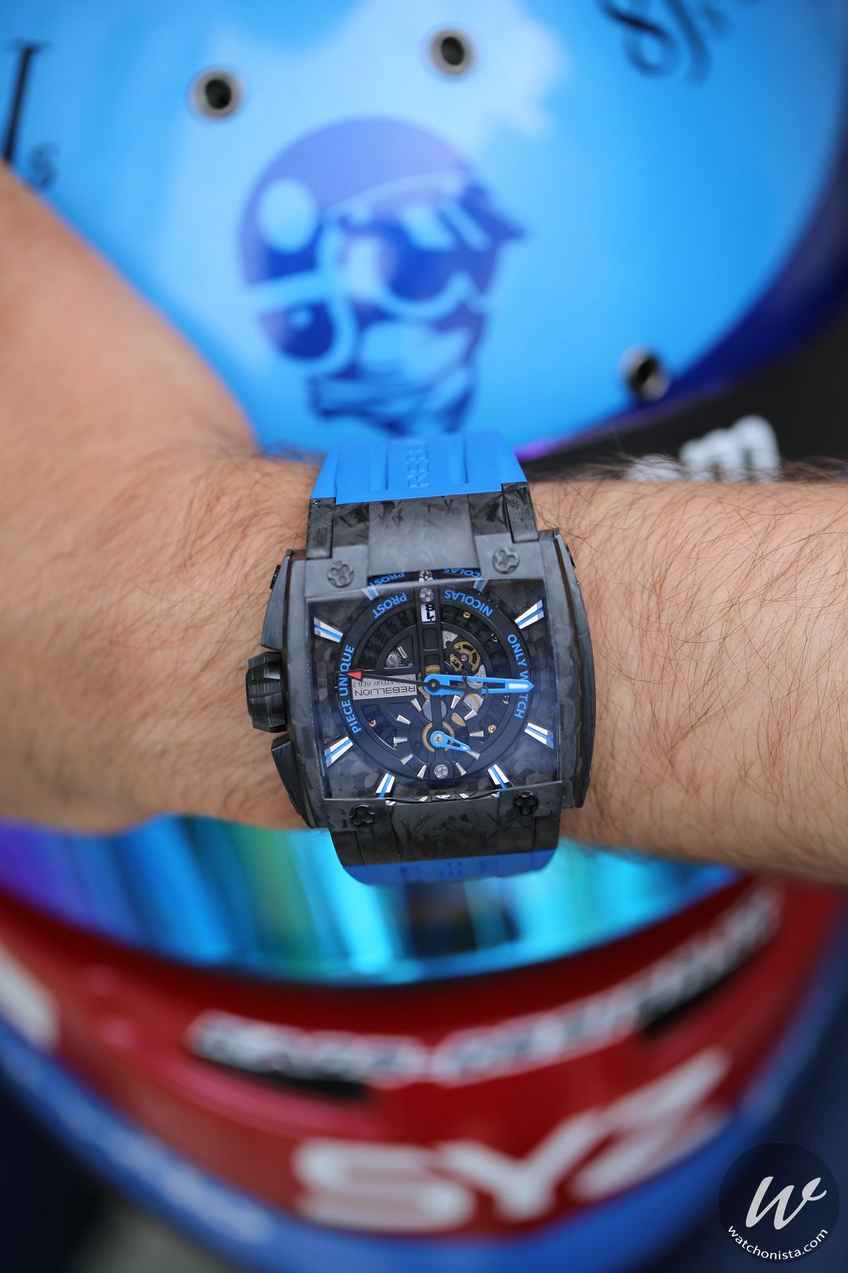 REB-7 Forged Carbon Regulator 2015 Only Watch
Were you able to play a role in the development of this unique watch?

We discussed what suited me and the features a watch would need to be capable of enduring Le Mans. So yes, I think I was integrated in the project from the outset.
Does that explain your even deeper involvement in offering the helmet and gloves you wore during the race?
For me, the watch is kindly offered by Rebellion. But I also wanted to contribute personally to this cause. So I offered the helmet and gloves that I wore during the Le Mans event this year. It's like a package that enabled me to participate in my small way to the cause.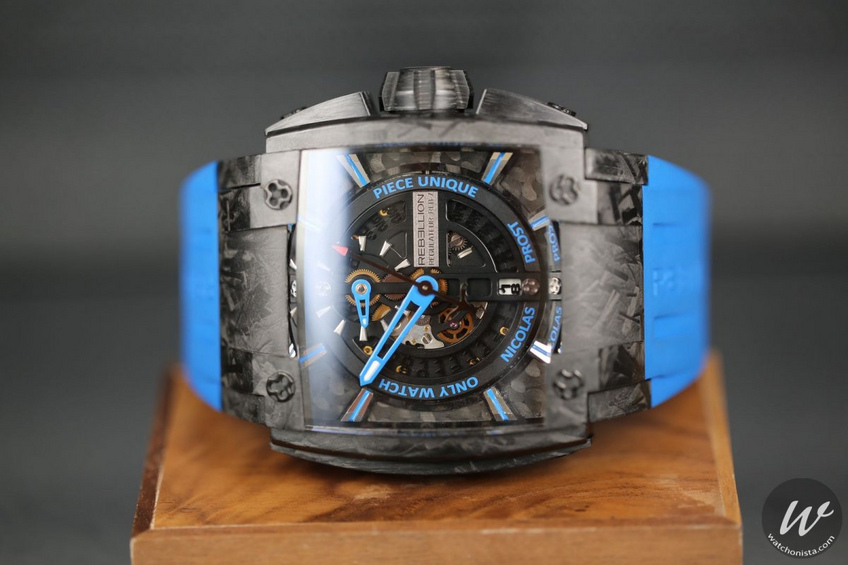 REB-7 Forged Carbon Regulator 2015 Only Watch
A race such as Le Mans demands total concentration. That said, can you still give a thought to what is worn on your wrist?
During the race you are very concentrated and frankly you do not really give much thought to what is on your wrist. Moreover, as it is a watch expressly designed to participate in the race, it is very light and ergonomic. So the idea was to actually forget I was wearing it, and I must admit that I did, so it played its part well ...
­What would you like to say to the person who purchases this watch?

First, I would say thank you for contributing to such a worthy cause. Then I would say that this watch has a history in that it perspired while fighting for 24 hours in 2015, and is unique in its way. Finally, I would say that in addition to a unique object, he or she is also acquiring my helmet and gloves as a personal souvenir.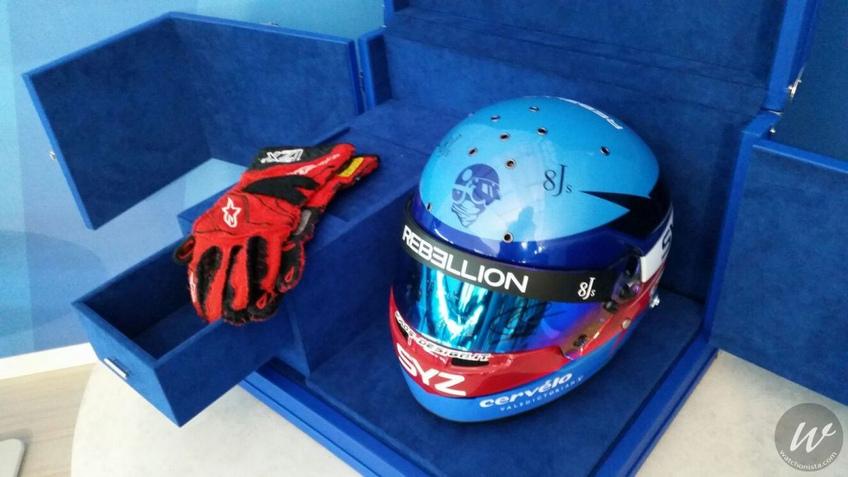 Nicolas Prost's elmet and gloves
As a racing driver do you see a connection between cars and watches?
I'm quite passionate about watches. After all, I am from a family that has worked a lot in the watchmaking sector. So yes, I stay pretty close to that world. For me, they are really two worlds that have always lived side by side. The fact that watch brands are present in car racing makes sense to me. Rebellion produces a watch that is high-tech and does much more than just tell the time. It has incredible qualities and a considerable amount of engineering inside. In my view it is certainly one of the brands with the greatest claim to a place in this domain.
What do you think about brands that might be tempted to also use Only Watch as a marketing platform?

The idea that anyone might use such a cause as a marketing tool is not a nice one. Our watch has a history; it is an integral part of the Rebellion brand's DNA. We do hope that by putting it on sale ─ and adding the helmet and gloves ─ it will fetch as high a price as possible to serve this cause. One should not be thinking in terms of media coverage. That said, however, thiswatch must be truly unique and liked so that it can generate as much money as possible for the good of the cause espoused...