The New Retro sports black diamonds for Only Watch
De Grisogono presents Black Stripes, a unique timepiece that evokes the spirit of the 1950s with its rectangular lines softened by a curved front and back sapphire crystal casing.
De Grisogono's New Retro, which was first unveiled in its original version at the beginning of summer 2015, takesus back in time to the 1950s. This particular version was given a new look by the Geneva jeweller-watchmaker especially for Only Watch event. This unique timepiece, called New Retro Black Stripes, will be on the blockat the Only Watchcharity auction to be held in Geneva on November 7. The original version has been enriched for the occasion with four rows of five black diamonds set on the transparent case back of the watch, framing the movement that is visible through the sapphire crystal cover.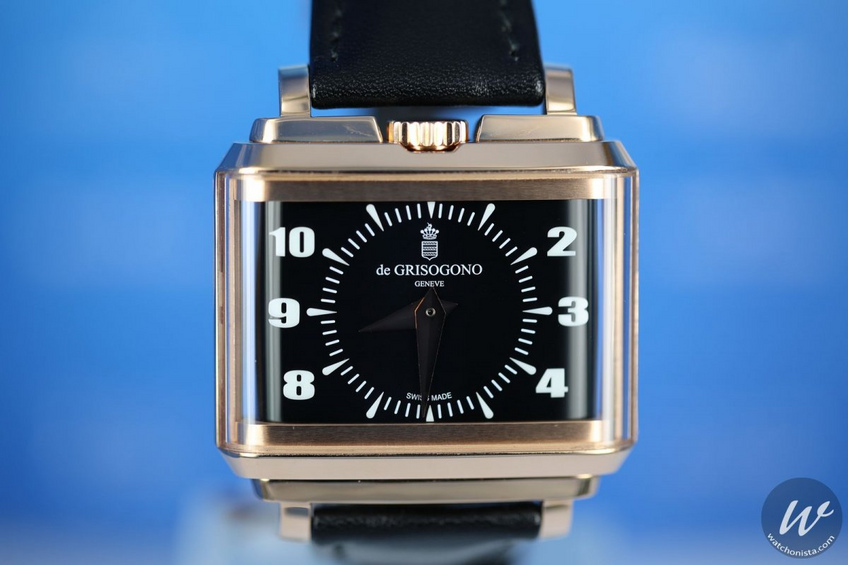 deGrisogono New Retro for Only Watch 2015
A large-sized case
The rectangular rose gold case with its ample dimensions ─ 12 millimeters high, 50 millimeters wide and 44 millimeters long ─ sits well on the wrist. It is said to have been inspired by a vintage cigarette case from the last century belonging to Fawaz Gruosi, de Grisogono's co-founder, CEO and artistic director. Its lines are reminiscent of the travel clocks of the 1950s though a closer look might even suggest the style of the 1920s. Its powerful geometry, softened by a few rounded edges, owes something to Art Deco. When contemplating its retro look one might easily envisage the image of a vintage New York elevator about to take us to the top of Rockefeller Center.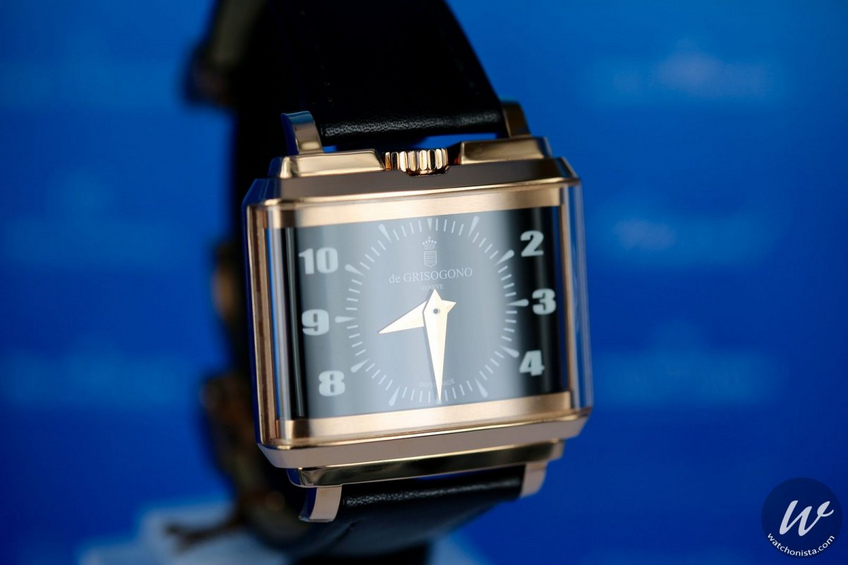 deGrisogono New Retro for Only Watch 2015

With its two hands and six Arabic numerals, the Black Stripes black dial radiates remarkable simplicity. This contrasts with the deliberately flamboyant creations we are accustomed to seeing from de Grisogono, whose humour, passion for jewelry pieces and love for surprise complications have given expression to collections such as Crazy Skull and Meccanico DG. Here, the main features are refinement, simplicity and excellent readability enhanced by a new font expressly developed by the watchmaker. The square-scaled black alligator leather strap with its triple folding rose gold clasp complements the tone of the watch perfectly. One finds the same well-proven gold and black lacquer color combination that even features on the crown positioned at 12 o'clock.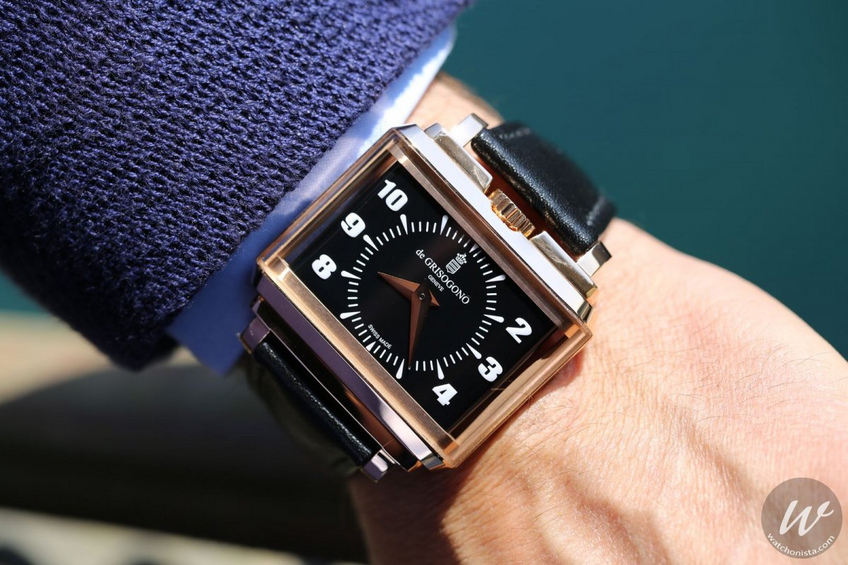 deGrisogono New Retro for Only Watch 2015
Two sapphire crystals with curved edges
The New Retro features two remarkable sapphire crystals. They are identical, with curved edges and are joined by a thin gold rod that ensures the watch's water-resistance to three atmospheres. The two crystals embrace the movement and dial like a glass bell covering a precious object. When you tilt the watch to examine it at a three-quarter angle or on the edge, the bend of the crystal creates extraordinary distortions that make the numerals dance, doubling them by way of an optical trick that incites one to play around with it a bit.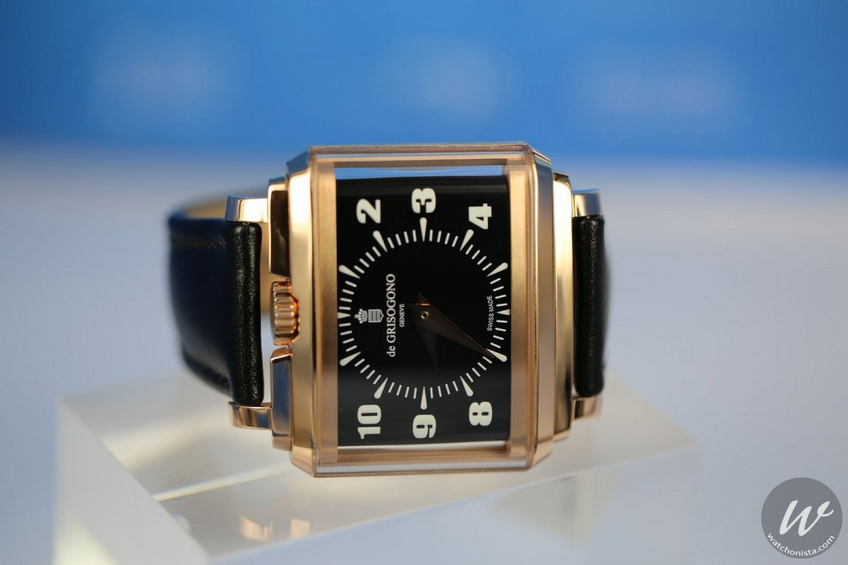 deGrisogono New Retro for Only Watch 2015
A touch of brand DNA
At the back, you can discover the movement – a mechanical caliber DG 10-01, with automatic winding. It has a power reserve of 42 hours. It is treated with black PVC. The oscillating weight is black as well, but features open-worked scrollings. It is like a distant memory of the brand's DNA, recalling somewhat the familiar exuberance of the collections. The Black Stripes version on offer at the Only Watch event was given an additional signature element, a double row of black diamonds that tally up to 0.40 carats. This is no fluke: Over twenty years ago, Fawaz Gruosi had put them back into the spotlight, exhuming a precious stone that had, until then, been ignored by jewelers. He knew how to turn them into a genuine brand trademark.
By
Benjamin Teisseire
,
Contributor
Founded by Fawaz Gruosi in 1993, the brand is well-known for its exuberant creations and has been producing unique timepieces since 2000. We are going to focus...